Bah humbug birthdays go better with beer
Birthdays are about getting old, but when you're old like me, the joy of each new birthday gets old, and fast.
My birthday was in late October - the same day every year my whole life - and the serious funk started the day before while I was doing my Saturday night shift at the bar. I did my best to put a smile on my face but I couldn't help feel sorry for myself, and my woe-is-me attitude continued after I dragged my ass home.
An evening of Netflix and copious amounts of beer didn't seem to help, so I stumbled off to bed around three, safe in the knowledge I could sleep in on my one day off a week.
My body clock woke me two hours later anyway, and then every hour or so after that until I finally rolled out of bed at the crack of noon.
Bah, humbug.
I wasn't terribly hungover, but I hadn't shaken off that depressing funk either. So I opened a beer - a Naughty Neighbour from Nickel Brook, if I remember - and started in on my birthday greetings on Facebook and via text message, hoping they would help me feel better.
Erin and John of Little Beasts Brewing
They did, a little. There were sixty or so, and I answered each one personally. Even the people who spelled my name with just one 'n,' 'cause I'm not petty. Or anal. At all.
I figured a visit to the gym would help me chase away the blues, so I packed my bag and took my tired self up to LA Fitness in the north end for a workout. But all it did was make me thirsty.
But I had an answer to that problem: beer.
And not just any beer, but fresh brewery beer, and my first birthday stop was going to be a brand new brewery, and that's about as fresh as you can get: Little Beasts Brewing.
I have known Erin, the brewmaster for Little Beasts, for a little while now, as she is a frequent visitor to Buster Rhino's. She also knows my daughter - her three kids are the same age as Adrianne's and her oldest went to the same school as my granddaughter Allison for a time - and she had been promising an IPA-friendly brewery since long before the first shovel hit the ground.
So I was pretty pumped to see this place open.
Not nearly as pumped as Erin. Little Beasts - named for the brewer's less than affectionate term for yeast (and not as a totally affectionate name for her kids, as I first thought) was supposed to be open in July, and then August, and then September.
But with any new business, and especially ones involving brewing equipment, liquor licenses and the like - there are pitfalls, and it was October before Erin and her business partner John got the brewery up and running.
I was there the weekend after opening to congratulate Erin and John, though I got a sneak peek at three of their beers the previous week at Buster Rhino's.
Experiment Blonde (5.2%), La Petite Duchesse (4.5%) and Experiment Session IPA (4.5 per cent) were in the bar all week, so I already knew what I was getting into when I paid a visit to Little Beasts on my birthday.
There's some magic going on here, I'm certain of that. Experiment Blonde is made with El Dorado and is described as "crisp, light and full of flavour." I agree.
La Petite Duchesse is Erin's year-round Table Saison and I'm totally stealing the review from my friend Sheila, who is a certified beer judge and a damn good beer rater too. "Holy crap," Sheila enthused. "La Petite Duchesse is dynamite! Delicate but formidable. She is little but she is fierce."
No way I'm topping that.
The Experiment Session IPA was brewed west coast style with Chinook, Centennial, Summit and Amarillo hops. Lots of malt in the aroma but the taste was all west coast. Very smooth and very sessionable.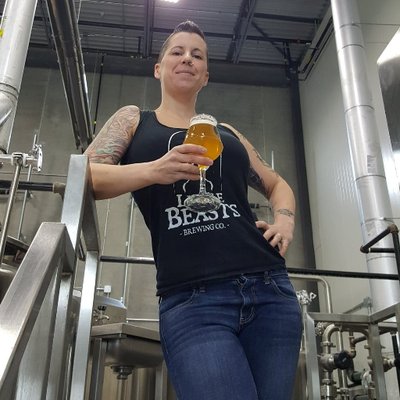 Tough Mudder Erin has her own brewery!
I was back the next weekend as well and the hits kept getting bigger and better. La Saison d'ete is a 6.5 per cent heavily hopped beer (Amarillo, Nelson and Mosaic) that was unlike any Saison I've ever tried. More like Saison meets IPA, in fact.
Brewed using Escarpment Laboratories old world saison yeast, it was spicy and tropical fruit on the nose and it packed a punch on the tongue. Citrus was most prominent, with the spiciness lingering in the background. Delicious, and my Saison of the Year.
In fact, La Saison d'ete is the best example of the style I have ever had. There. I said it.
Another contender in my year-end awards is Salem's Lot (6.3%, 65 IBU), a New England IPA that delivered a fresh bouquet aroma of citrusy hops. Brewed with all New Zealand hops, this is creamy, juicy and delicious.
So glad this brewery is finally a thing and so happy for the Little Beasts team of Erin and John and especially for Erin, who, in addition to being a total badass - she is a multiple Tough Mudder competitor and is off to the World's Toughest Mudder in Las Vegas this weekend - is one of the nicest people in the craft beer scene.
John seemed like a pretty good dude too.
And thanks to the both of you for turning my birthday blues frown upside down. Turned out to be a pretty good birthday after all.