Dark Lord Day and the coming of the Sours
When your boss asks you to knock off a little early and come drink beer it's not often it's your darkest day.
But when the beer being shared is Dark Lord from Three Floyds Brewing in Muncie, Indiana - one of the most sought after beers in the world - it was well worth it for me to get in touch with my dark side.
Dark Lord is released one day a year - traditionally the last Saturday in April, though this year's event will be on May 13 - and is only available at the brewery, creating a fervour unmatched in the craft beer world. Even Pliny the Younger, the celebrated Triple IPA from Russian River Brewery in Santa Rosa, California, spreads the love around for a week or so.
Dark Lord, a Russian Imperial Stout brewed with Dark Matter coffee (of course), vanilla and molasses, is one day, one location, and the attendance is capped at 6,000 after crowd control issues in the past.
So yes, Jessica, I'll come to this bottle share. Thanks for asking.
Dark Lord Day fans
It being a beer share, I had to bring something to this party too (hosted by Jessica's beau Matt, of Brewing Pantry fame), so it was lucky for me I had a bottle of Harry Porter and the Complicated Coffee Order in my fridge from a recent trip to Great Lakes Brewery.
That should do the trick.
I arrived at Matt's sumptuous underground lair in Bowmanville as soon as I was able and found the sharing well underway. They had saved me some Dark Lord, though, and I enjoyed two vintages of this rare brew: 2011 and 2015.
At 15 per cent alcohol, this is a YUGE beer. I found the newer Dark Lord to be super smooth for such a potent brew, but the 2011 version seemed to have a lot more going on. Both poured jet black but the six year-old beer brought an intoxicating aroma of plums, figs and other demonic dark fruits. The taste is more dark fruits and dark chocolate and a rich sweetness.
Both were big, bodacious beers meant to be sipped real slow.
Check one off the beer bucket list.
The Dark Lords
The other guests at this little affair included Matt's pal Steve, as well as a couple from Old Flame Brewery in Port Perry: Maddi, and Scott, who also happens to be the Brewmaster.
No shortage of beer knowledge there. I didn't mind soaking in some of that know-how, as long as I got to drink great beer while doing so.
Plenty of that, even after the the Dark Lord bottles were emptied of their goodness.
Next up was another Russian Imperial Stout, Singularity, a 12.2 per cent ABV beast from Driftwood Brewery on Canada's Left Coast. This was thick and sweet, with chocolate and bitter coffee on the tongue. Smooth, with a hint of booze. Really, really good.
We changed it up from the dark beers to go with Jessica's contribution next: Lolita, a pink rose-coloured Belgian-Style Pale Ale fermented with wild yeast and aged in raspberries in wine barrels. This Goose Island beer was sour. Really, REALLY sour. I've been trying a lot of sours lately to (hopefully) acquire a taste and I've found some (particularly the dry-hopped varieties) very appealing. Lolita, not so much, as my Rate Beer review attests:
Meet Lolita, from Goose Island
Wow that's sour! Mouth-puckeringly sour. Raspberries and spices but mostly just sour. A bit much for me. I'll come around eventually. Maybe.
My opinion of this brew wasn't shared by the rest of the group. In fact, it sparked a discussion of how fantastic this style could be. Steve was prepared to rank Sours as "this close" to being number one in his book, while Matt had Sours, IPAs and Stouts as his three favourites.
Matt liked Lolita so much he was looking sadly at the bottom of the bottle. I would have offered him the rest of my glass but thought it bad form so I soldiered on and drank it. Jessica just said (sweetly) to stay the hell away from her Lolita.
(I don't remember what Maddi offered but Scott, who has travelled extensively in Europe seeking out fine beers, said a good Lambic is "something special.")
Pere Jacques, an 8.7 per cent Dubbel (also from Goose Island) was up next. Complex and tasty, with spices, dark fruit and brown sugar. Smooth with big malts. It was a big hit at the table.
Harry Porter and the
Complicated Coffee Order
A little snack was now in order to soak up all that alcohol and Matt and Jess broke out the cheese plate, which is a thing every time I visit these two beauties.
Bread, meats and a bunch of cheeses, including a goat cheese with cranberries (courtesy of Steve, I'm told) that was ... heavenly. It was a far better snack plate than I would have provided, that's for sure, and we made quick work of it.
After that feast there was room for one more beer: my Harry Porter and the Complicated Coffee Order, which was GLB's popular Harry Porter brewed with vanilla beans, cinnamon, coffee and a "small amount" of scotch bonnet peppers.
It was fantastic. Matt raved about it, in fact, and I thought it was smooth and delicious, with a hint of heat at the end. My Porter of the Year so far.
It really is the people who make bottle shares special, but it helps if the beer being shared is amazing too. I enjoyed both on this night.
And thank the (Dark) Lord I didn't have to get up for work the next morning.
Ghosts, the Apocalypse and Polkeroo too
One of the memorable beers from Great Lakes Brewery's recent 30 Anniversary party was their (appropriately named) 30th Anniversary Ale.
This 11.3 per cent Belgian-Style Quad was aged in Pinot Noir barrels for 11 months before being brought out into the light for the party. I described it as "rich and delicious" at the time, but I was going on a five ounce sample.
My pal Robert, also known
as Drunk Polkeroo
That just wouldn't do, so I made a trip to the brewery, located in Toronto's far-off south-west corner, a priority.
Still, it was a couple of weeks after the party before I could make the trip and I was worried they might run out of this beer, despite assurances there would be a few bottles left when I arrived.
No worries. I had a back-up beer if the fridge was empty of 30th Anniversary Ale, a beer that would have been worth the trip all by itself. It was, of all things, an English Mild.
Normally I wouldn't cross the street for an English Mild. Nothing against the style, but a low alcohol, lightly hopped beer is generally not in my wheelhouse.
But this one was special, because this English Mild had the Polkeroo touch.
My pal Robert, known in beer blogging and social media circles as Drunk Polkeroo, was part of a media group invited last month to work with GLB Brewmaster Mike Lackey on a collaboration brew as part of the brewery's anniversary celebrations.
The GLB haul
The result was an English Mild (3.8%) with cocoa nibs called Alternative Facts, a homage (not really) to the new guy running the country to the south of us.
The good news is both beers were in the retail fridge, so I filled up my carry-out case, adding a couple of Apocalypse Later Black IPAs (one of my all-time favourites) and the Harry Porter and the Complicated Coffee Order mentioned earlier in this post.
Now I had to get home, and time, as always, was my enemy. The fastest way would be the way I came in, but I had seen the bumper-to-bumper traffic on the Gardiner Expressway eastbound lanes, so an alternative route would be needed.
By happy coincidence my chosen route took me past Bellwoods Brewery, located just west of Toronto's downtown.
If I'm being totally honest it wasn't a coincidence (a shocker, I know), and I admit I tried to fit in even more breweries on the route, but time-is-the-enemy and all that, so Bellwoods, one of Canada's best all-round breweries, would have to do.
Parking is always an issue at Bellwoods, so a quick bottle shop raid strategy was called for.
The Bellwoods haul
I picked a good day for a raid. Witchshark - the first Imperial IPA I fell in love with, was there, and so was Roman Candle, the brewery's outstanding flagship IPA. Ghost Orchid, a new IPA with a fantasic aroma that I had been drinking regularly that week at Buster Rhino's, was also in the house. There was even a new IPA, called simply IPA with Columbus & Chinook.
And there was Jelly King (Plum).
I had been hearing so many good things about this beer I knew it had to go in my fun box, even though it was a Sour. A dry-hopped Sour, but still a Sour.
My mouth was puckered in anticipation.
All I had to do now was drive back to Oshawa, put my beers in the fridge, shed a small tear I wouldn't be able to drink them yet, and go to work.
I can wait. I think.
Beer 101: Consumption, Enjoyment, Reflection
Turned out I was weak. I couldn't wait that long after all.
I was home with a little bit of time to spare before I had to go to work so I decided to crack open the first bottle of Alternative Facts. After all, it was just 3.8 per cent and it was brewed by a Polkeroo, and a drunk one at that. It had to be first.
For such an inoffensive style, GLB (and the celebrity brewers) sure packed a lot of flavour into this beer. It was really good.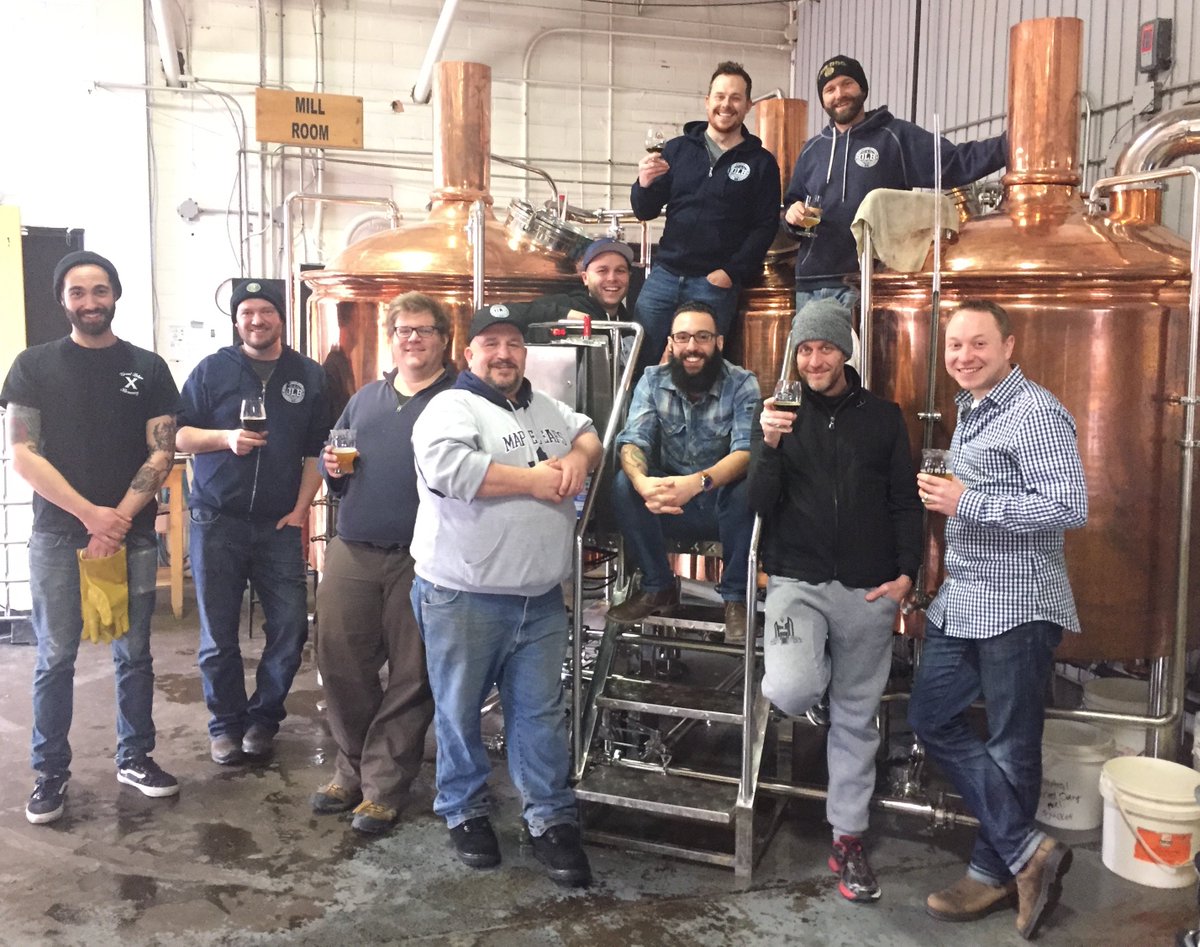 The Alternative Facts brewing team at GLB
There was coffee and roasted malts on the nose and it tasted clean, with mild coffee and much deliciousness. Very drinkable.
I knew this beer was all Polk. I could see him barking instructions as hops and coffee beans and spent grains and whatever else was tossed into the tank. "Step aside Mike," Robert probably said to GLB's Brewmaster. "I got this."
It may not have gone down exactly like that but the results spoke volumes. Good job guys!
The 30th Anniversary Ale was next (after my shift of course) and this high octane beer was worth every penny. It smelled of darkness and dankness, with plums and dates and raisins all soaked in caramel. The taste was rich and boozy, with more dark fruits, such as overripe wine grapes. A lovely big-bodied beer.
I went straight to the IPAs from Bellwoods the next evening. I've had the deliciously bitter Witchshark, their Imperial IPA, many times (it's one of my all-time favourite beers) and I wrote about Roman Candle, their flagship IPA in this space recently ("really well-balanced with a magical aroma"), but Ghost Orchid was getting its first print treatment.
Roman Candle's aroma may have been magical, but Ghost Orchid took the bouquet into the realm of the supernatural. One of the best-smelling beers ever.
Ghost Orchid IPA from Bellwoods Brewery
I enjoyed my first Ghost Orchid from the beer fridge at the bar earlier in the week (thanks Ashley!) and had been drinking this on tap since then. The aroma of pineapple, orange and other juicy fruits filled the air with citrus awesomeness, and it tasted amazing too, with very little bitterness. Outstanding.
I should have bought more.
I tried the new IPA next, the one brewed with Columbus and Chinook hops, and came away impressed, thought it wasn't in the class of Ghost Orchid.
There was peach and orange on the nose, along with some aromatic cedar, and it tasted of tropical fruits, lemon and grapefruit. Light but resiny and very nice.
The Apocalypse Later Black IPAs from Great Lakes was the penultimate beer from the trip and it was hard to wait to get into these. I had enjoyed this before at Donny's Bar & Grill in Burlington, but that was more than a year ago, as this beer isn't usually part of GLB's LCBO allotment.
My new favourite Black IPA. Citrus, pine and sweet chocolate aroma with all that and lots of roasted malts on the tongue. Really smooth and delicious.
The last beer was Jelly King (Plum) and I'd like to say I was anticipating this with curiosity (and trepidation), but that would be a lie. I had it a few days before on tap and it was actually, what's the word?
Yummy.
This could be the Sour that gets me to appreciate Sours. Mild citrus in the aroma and the taste is tart, with plums and pears and grapefruit all vying for attention. There was a sweetness to it as well. Delicious beer.
Maybe I like Sours after all. The dry-hopped variety anyway. Sorry Lolita.