Comics, beer and Fearless Fred
Suicide Squad must have been a smash hit at the theatres because I sure saw a lot of Harley Quinns at Toronto's spring Comicon.
Oddly enough, I didn't take a picture of a single one of 'em. Too busy with the Cat Women, the Spider-Gwens (I think) and the Fearless Freds.
One Fearless Fred, anyway. He of the 102.1 The Edge radio fame.
I knew he was a comics guy (The Fourth Planet) and a host for Teletoon, so I was not surprised to see him on Artists Alley. But a beer guy? That I didn't know, and I discovered that bit of intel when he complimented me on my choice of t-shirt (Hop Zombie from Epic Beer of Aukland, New Zealand) and I stopped to chat.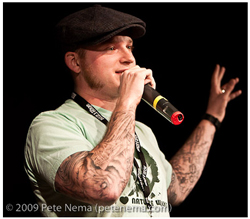 Fearless Fred Kennedy
Turned out he is a serious beer guy. He has plenty of big-time brewing friends and has collaborated with a few, including Sam Corbeil of Sawdust City. That was a raspberry Saison dubbed Alison Breer, in honour of actress Alison Brie (How to be Single, Mad Men, Get Hard, and the voice of Black Widow for a video game).
Fred has also organized a few homebrew competitions and used to have a regular beer podcast.
An Ajax resident, Fred's new neighbour is just-opened Falcon Brewing and he wanted to support his local and give a little love to the new kids on the block.
No problem Fred. Ajax and Durham Region, say hello to Falcon Brewing and to their Brewmaster, David Draper, who is a regular at Buster Rhino's and has even been known to walk in with his own keg. Gotta love customers who bring in their own beer!
This is Violet Love. I'm pretty sure
she's also Cat Woman but I forgot to ask
But there is more to a comic convention than beer, and I ended up buying some art (Joe Jusko!) and picking up some back issues of Daredevil and Black Widow as well. Not to mention taking pictures of some of those cosplayers, who are always a hit at these affairs.
Comicon is also more than beer and comics, and most of the cosplayers - amateur
and professional - come from other realms of pop culture. From the Walking Dead to the WWE and from Star Wars to the Simpsons, you can see it in full costumed display on the convention floor.
Still, I was in and out in under two hours, which left me plenty of time to wander up the road to Bar Hop, where I indulged in my first New England-style IPA from Great Lakes Brewing:
Meanwhile Down in Moxie
.
I'm really becoming a big fan of this style. This murky mug of magic was bold and beautiful, with mango, tropical fruit and resiny citrus fairly bursting from the glass. Super delicious.
Comics, cosplayers and beer. If you're looking for a reason to go to Comicon (FanExpo - the big one - is held at the end of July), that's a pretty good trifecta right there.
The #Beersaint returns
I wrote recently about my trip to Great Lakes Brewery in Toronto and Alternative Facts, the English Mild brewed in collaboration with a team of beer bloggers and social media stars that included my pal Robert, AKA the Drunk Polkeroo.
Paul Thebeerguy
The beer was amazing; by far the best English Mild I have ever had. Which probably makes it the best of two. Maybe three. This was the first memorable one anyway.
Memorable or not, it wouldn't do to enjoy a Polkeroo-brewed beer (he threw some malt in the tank in a very brewmasterly way) without sharing it with someone in his wide circle of friends.
So I called Paul Thebeerguy and told him to meet me at Buster Rhino's for a pint. I wasn't actually looking for a trade, but Paul, being the #Beersaint, brought me a bottle from Left Field Brewery of Toronto, one of the best new breweries in the city.
So we sat at the bar and drank a pint - in my case a half-pint of GLB's awesome Apocalypse Later Black IPA, as I was about to start work - before taking our prizes home to chill for later.
I love this #Beersaint thing. I think I could finally be an unofficial member of the club.
Paul will tell me if I qualify.
Super hoppy beers, more Sours and a Saison
My gift from Paul was Left Field's Anniversary #4, a Saison that delivered soft, tart citrus up front, followed by a crisp taste with lemon and spices very prominent. As they say, tasty as.
The rest of the beers in my backlog of brews to review were either super hoppy or sour, or in one case, both.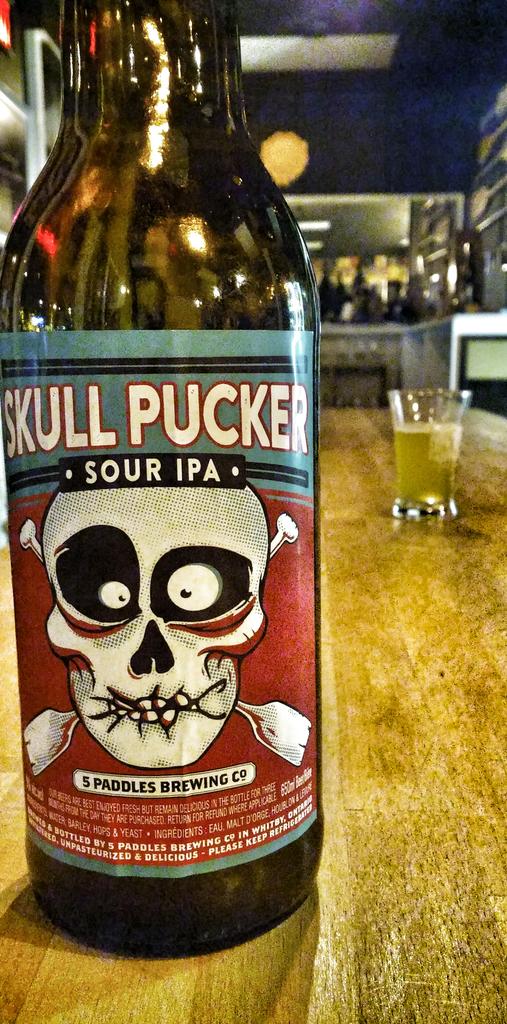 Skull Pucker may or may not be the world's first Sour IPA, but it was certainly the first I'd heard of. This 5 Paddles beer smelled lemony fresh with a distinct tartness, along with light citrus and a bit of limey juiciness. The sourness was present in the finish. This brewery continues to impress.
I enjoyed Bellwoods' Plum version of their Jelly King line of Sours recently and I got my hands on the original Jelly King last week. So tart and so delicious, with lemon and grapefruit and plenty of juiciness. Dry-hopped is definitely the way to go with this style.
I picked up a bottle of Jasmine IPA from Steamworks Brewing, mostly because my pal Trevor (formerly of Manantler Brewing) had an job interview with this Vancouver-area brewery.
Trevor ended up catching on with Russell Brewing (Surrey, B.C.), and that's too bad for Steamworks, as the World's Sexiest Cellarman would have tweaked this beer and made it much better. This was floral, fruity and a bit spicy on the nose, with jasmine and lemony hops on the finish with very little bitterness. It was okay; nothing more.
Speaking of Manantler, I popped out there a week or so ago for the first time since a major management shuffle saw the departure of not only Trevor but also James, the Brewmaster and co-founder.
I was sorry to see them leave, especially after tasting Hot Tropics Belgian-style Table IPA, which was Jim's last brew at Manantler. It was fantastic. The aroma was all citrus and there was loads of flavour on the tongue, with citrus, a hint of melon and a bit of spice. I've always said that producing a great beer under four per cent alcohol required mad skill, and this could be the finest super light beer I've ever enjoyed.
But I'm not worried about Manantler - always my favoutite local - continuing their legacy of awesomeness. With Chris in charge as Brewmaster, they're still in good hands.
Flying Monkeys went the other way on the alcohol scale with their Super Collider 2.0, a 10.4 per cent monster that quickly became a regular in my fridge, despite the presence of big malts that threatened to overwhelm the hops.
The aroma of this unconventional IIPA started with some orange and tropical citrus before a rich sweetness took over. Honeycomb malts were prominent, with pine and resiny citrus there as well. Smooth and deceptively easy drinking for such a big (102 IBU) beer.
Look out craft beer world: here comes Josh!
I have known my friend Josh since he was a six year-old kid, fresh off the boat from Bristol, England.
He immediately became a part of our family, as he and my son Matt were classmates and best buds from the start. Josh was also one of those kids who never knocked at the door but just walked right in. We never minded a bit.
Josh has always gone into life full bore; from his drumming days with Into Exile (Matt played guitar), and his (brief) music promotion career; to his love of golf and to his current status as a carpenter and all-round handyman.
His passion for everything he did was admirable, though it was sometimes detrimental to success and happiness as well.
His newest passion? Craft beer, and my boy has, as usual, jumped in head first, visiting breweries every chance he got. He just returned from the Toronto Winter Brewfest (his first beer festival), and his post from the homeward bound GO Train Saturday night said it all: "Beer fest was a success. I am quite intoxicated." With a thumbs up, of course.
Welcome aboard Josh. We must get together for a beer or three.
Cheers!