We are Legends
"A lot of legends, a lot of people, have come before me. But this is my time." Usain Bolt
The Olympics are over, Bolt, so step aside. Now it's my turn.
I am a Legend. Says so right on this bottle.
And it's not just me: there are six of us who have their faces plastered all over four different labels of Manantler Brewing's newest brew, Legends Imperial Stout.
It was a wonderful gesture from the Bowmanville boys and I can tell you I'm over the moon with this. I've told every one I know about it and I've even taken to telling total strangers. "Look at this man! My face is on a bottle of beer!" I shout, and they respond by saying things like "cool" and "awesome" and "excuse me, but this is the women's washroom, sir."
And I had no idea they were doing this.
Trevor messaged me Saturday morning and said I should pop in to the brewery sometime after four and said no more.
Real mysterious.
Yes indeed. That is my mug
on that bottle of beer
So I went at the appointed hour, where I found a half-dozen people milling about the cash register with bottles in their hands, and I craned my neck to see what was on the label. And a few craned back with looks that said, "there he is. It's that guy" or something.
And then Trevor brought me a sample (tasty), a handful of labels with my mug shot on them (wait, what?) and finally, a bottle.
I didn't know what to say. I even forgot to bro-hug him.
As Trevor put it, it was the brewery's way of thanking the "regulars" who were "the real legends of Manantler."
By putting our faces on bottles of a nine per cent Imperial Stout.
The idea came from Trevor and brewmaster Jim, and they started with 25 people before narrowing it down to the final six.
And I made the cut? I asked. "You made the cut," Trevor answered.
I'll let Trevor explain the thought process behind the naming of the beer.
"T

his ... was inspired by the six - of many - Manantler regulars on the label who, in our eyes, are the real legends of Manantler. Without their relentless pursuit to quench their thirst with anything we make, we wouldn't be where we are."
I think there's something in my eye...
"Thanks for continually trying to empty our fridge, for bringing everyone you know to the brewery, for making awesome BBQ sauce with our suds,

for mentioning us in (almost) every blog you write, for taking pictures we couldn't`t capture in a million years, but most of all, thanks for being our friends."
The Legends

"Cheers, this brew is for you!"

There's definitely something in my eye.

My fellow Legends include Amanda and Josh, a local couple who come into the brewery at least once a week.

"They love our beer and they tell all their friends about it.," enthused Trevor. "And they make BBQ sauce out of our beer."





There is also Dave Hughes, a retiree who comes in almost every day. "He always has a big smile on his face - I mean, look at that face! - and he spends his entire pension on our beer. We think."





And there is Jeremy and Michael Clay. "Jeremy is a professional photographer and has done a lot of promotion for Manantler," Trevor noted. "Michael is a die-hard Root of All Evil fan."





(Jeremy is also a pretty good smack-talker. When I asked Trevor to make sure to save a few more of the bottles with my face on them - I bought just two - Jeremy was quick to point out that the "Jeremy Clay bottles" are in short supply, "due to sheer sexiness.").
For the record, Legends Imperial Stout was most excellent.

Roasted coffee on the nose and coffee, bitter chocolate and a touch of licorice on the tongue. Smooth and rich and delicious.




And now if you'll excuse me, I have to go back to the brewery to buy five bottles for my mother.
Step aside Swamp Juice - Octopus is back!
"I have some good news," the lovely Samantha said to me at Buster Rhino's last week. "If you can finish this keg of Swamp Juice, there's something I know you like next in line."
"Octopus?" I said, a huge grin making its way across my face. "I thought that was done for the year."
"We have one left. A small keg. But you have to finish the Swamp Juice first."
No worries. Swamp Juice is a blend of IPAs and Pale Ales (generally) released on a semi-regular basis by Toronto's Great Lakes Brewery, a two-time Canadian Brewery of the Year and one of the world's finest producer of IPAs and their friends, in my legendary, albeit humble, opinion.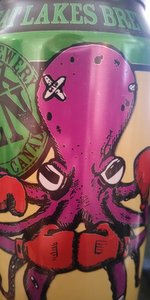 Octopus Wants to Fight IPA
This batch, #28, is a mix of Octopus Wants to Fight IPA (my Mid-Summer Beer of the Year), Canuck Pale Ale and Sunnyside Session IPA and clocks in at 4.8 per cent ABV. It smells like Octopus (wonderful) and while lighter in body, it is heavy on taste and is delicious.
But I was going to need help to finish the 50 litre keg and I put out a distress call on Facebook, asking for volunteers.
The call did its job as Samantha said sales of Swamp Juice have been brisk. And I've done my part: I've been back three times since.
The keg appears to be almost done as it is getting cranky and prone to rude and obnoxious behaviour. I popped in today for a quick one and while Sam was filling my glass the tap gurgled and belched and kicked back a sudsy shower for her enjoyment.
I tried to suppress a laugh ( I did ask her if she was all right) and she announced that it was the third time that had happened today.
I think we're all ready for the next Great Lakes Brewery keg in line.