Sculpin vs Octopus - the undersea IPA Challenge
If there is one beer that kick-started my love affair with juicy, citrus-forward IPAs, it was Sculpin from Ballast Point Brewery of San Diego.
There have been other pretenders since my first taste of Sculpin a little more than two years ago, but none have been able to knock Sculpin off its perch at the top.
That's not to say Sculpin is the best India Pale Ale in the world or even my favourite. Ontario has some spectacular IPAs - Headstock from Nickel Brook and Smashbomb Atomic from Flying Monkeys, just to name two - that are on a par with Sculpin or even ahead in my highly subjective rating system.
But in that juicy citrus-forward sub-genre, Sculpin stood alone.
Until Great Lakes Brewery unleashed Octopus Wants to Fight, that is.
I loved this beer when it was released for the first time last year - in a large part because it reminded me of Sculpin - and I loved it even more this year. I simply couldn't get enough Octopus in my life: it was that good.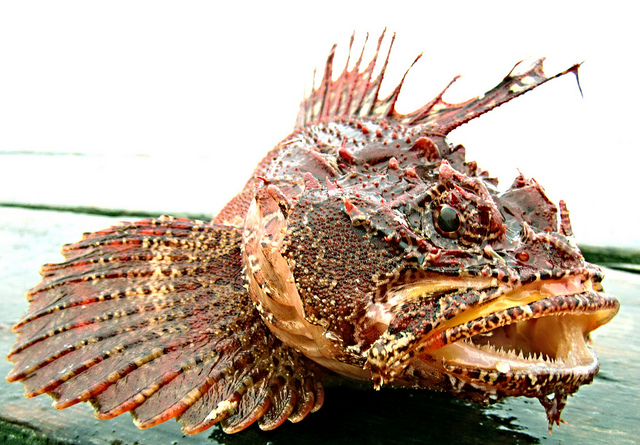 Sculpin - the Brad Pitt of the sea
So when I came back from a Niagara Falls, New York trip with six Sculpin in my back seat and the knowledge there were still four or five Octopus in my fridge, I knew there was only one way to settle the question.
It was IPA Challenge time.
Normally I would put my money on an Octopus (even a drunken one) in a fair fight with a Sculpin, but this Sculpin has plenty of experience - especially in underwater ninja knowledge - so this could be a good scrap.
Using Rate Beer (the world's largest beer rating forum) as a template, I gave the challengers scores out of ten for aroma and taste; out of five for appearance and palate; and a overall score out of 20.
AROMA: Both are intoxicating, but where Sculpin is all grapefruit and orange, Octopus is mango and pineapple and more of it. Maybe the best smelling beer EVER.
Advantage: Octopus Wants to Fight
TASTE: The same aromas carry over to the taste and Octopus still comes off as bolder and hoppier. The margin for victory is less, but Octopus still carries the day.
Advantage: Octopus Wants to Fight
Whoo Hoo! a drunken, fighting Octopus for the win!
APPEARANCE: Both beers pour a hazy golden. They are almost identical, really, so this is a
Draw
PALATE: Wow. The hops really shine all the way down for both beers. I'm tempted to give this one to Octopus, but it's so close I'm going to call this category a
Draw
OVERALL: I don't know what a perfect beer is, so I can't give Octopus a 20 out of 20 but it's soooo good I'm going to give it a 19. The difference between the two brews is such that I should give Sculpin a 17, but it compares well to other beers I have scored 18 out of 20, so a score of 18 it is.
WINNER
: Octopus Wants to Fight
Session IPAs do battle (in my mouth)
The warm weather means more attention to lighter, more sessionable beers, and no category of beer has grown as much in the past few years as Session IPAs.
No longer the little brother to the IPA, the new wave of Session IPAs may not bring the palate cleansing bitterness and substantial malt bill of its older siblings, but they are bringing the hops and in a big way.
In the past month I have tried four beers that fit into this category, so let's see which one is the best, shall we?
Founders All Day IPA
(4.7 per cent) - This beer has been around the longest and has been a standard bearer for the style since its introduction four years ago. It's all pine and citrus with some grassy notes on the nose. Beautifully balanced. I gave it a 4 out of 5.
Molson Canadian 67
(3 per cent) - There was a
little fruitiness on the nose but very little hop character shows itself after that. Still, making a good three per cent beer is a mad skill - I've never had one that was good - so I wasn't surprised. It was pleasantly, if blandly, drinkable. Hey, it's Molson: give them props for the effort. I scored it 3.2 out of 5.
GLB Sunnyside (3.9 per cent) - I didn't dig the aroma - there's grapefruit but the hops are muted - but it was much better on the tongue. Strong citrus flavours like lemon and grapefruit, with some pineapple and floral notes make this beer juicy and refreshing. Really smooth and easy drinking with almost no bitterness. Damn good for under four per cent. I gave it a 3.7 out of 5.
Rainhard Daywalker India Session Ale
(3.9 per cent) - I had this on cask when I visited Rainhard on the occasion of their one-year anniversary party and I (naturally) took a bottle home with me. It smelled delicious: citrusy, yet creamy. It was tart, with plenty of lemon and some tropical fruit and a nice bitter finish. I scored it a 4 out of 5 and I could have gone higher.
I gave both All Day IPA and Daywalker honour marks of 4 out of 5, but when I factored in the alcohol difference and the incredible tartness of Jordan Rainhard's creation, there could only be one champion.
Winner
: Daywalker India Session Ale.
Remembering Ali
I was still in short pants when Muhammad Ali (then Cassius Clay) shocked the world by destroying Sonny Liston and winning the heavyweight boxing title in 1964. He was the golden boy in those days: Olympic gold medalist and then world champion. But that all changed when he converted to Islam and changed his name to Muhammad Ali and especially when he refused to fight in the Vietnam War, famously saying he had "no quarrel with the Viet Cong."
He was stripped of his title and sentenced to five years in prison (he remained out on bail pending appeals) and lost three-and-a-half years of his prime boxing years, but when he returned to the ring he returned to a changed world. I had changed too, and Ali was my hero throughout my formative years.
I watched Ali in his three epic battles with Joe Frazier and his upset win over George Foreman. I was in his corner for the Thrilla in Manilla, for Rope-a-Dope and for Float Like a Butterfly, Sting Like a Bee. I watched him in his decline as well, when the lure of the ring drew him back when he should have stayed away.
I also listened whenever he spoke. Unlike today's superstar athletes, Ali was not a 'brand.' He took a stand for something - always - and he spoke for the common man and woman of the world. He was without equal as the most famous person in the world and the world cried when he was diagnosed with Parkinson Disease.
The world also watched - as did I - when he, with trembling hands, lit the torch to mark the beginning of the Atlanta Olympics in 1996.
He was, quite simply, The Greatest. There will never be another like him.
Rest In Peace, Muhammad.