An epic Mother's Day weekend (and not just for Mom)
I knew from the get-go my Mother's Day weekend was going to be pretty cool.
Actually, I knew on the Thursday prior when I got carded (
"Can I see some ID"
) but I've already told everybody I know so we don't need to go there again. But the weekend, oh that was shaping up very well.
There was the visit to Toronto to see my folks, for starters, which was a given because Sunday was Mother's Day and because they are pretty awesome people. There was a Kim Mitchell concert back in the Shwa Sunday night, which would be amazing for several reasons, one of which is the son of my college friend Kim (Nelles, not Mitchell) is IN THE BAND.
Then there was my Saturday night play-date with @BeerStoreDude in Oakville, which had been semi-planned for a while but had only been finalized the week before. I was looking forward to that simply because Donny Vegas is a good man to drink with.
But my Saturday, from nine in the morning when I got home from work, till eight or so that evening when I would hop in my car for the drive to Oakville (Don worked until 9:15), was looking to be as legendary as anything on my itinerary (okay, except for Mom) because I was planning on doing nothing.
Not nothing exactly - I did some cleaning, got the laundry done, got caught up a bit on my writing and had a couple of nice naps - but after a super busy couple of weeks at my two jobs I really needed some me time.
Falgarwood
I was feeling a bit refreshed when I pointed the car west to meet up with my college chum and former roommate at 3 Brewers in Oakville's Winston Park Plaza.
I was bringing gifts - as I always do - but the problem with promising a buddy some beer without a date set for the gifting is that the wait could be several or even many weeks in the future.
Don and I at a beer festival some
years back. Don is apparently
unhappy there is a human head
growing out of his left shoulder
In that time I always find other brews that I think Beer Bro Don would like and add them to the six-pack case and by the time I head out there to drink with him I'm using a big box and it's more than half-filled.
Then I apologize for giving him so many. I am so Canadian.
Anyway, I arrived at the brewpub first and ordered a White, a 4.7 per cent Belgian-style Wheat beer, to pass the time until Don arrived, which happened a couple of sips in.
So we drank a few beers (we moved on to the six per cent, 60 IBU IPA), shared some nachos and then headed back to Don's childhood home (forever to be known as Falgarwood Estates), where every day is Mother's Day after my pal moved back home a few months back to take care of his Mom, the tres chic Gramma Jay.
More beers out of Don's man cave beer fridge followed, with the highlight being Amsterdam's Space Invader IPA, a brew loaded with tropical fruit and pungent, bitter citrus that was out-of-this-world good. (What? You thought I wouldn't go there?)There was a little Willy Nelson and some more beers before we settled in to watch Thor: Ragnarok. Which I had somehow never seen.
Space Invader IPA from Amsterdam Brewery
(Great movie. It's a film about the catastrophic end of an ancient civilization that is straight up hilarious. Nobody but Marvel could pull that off.)
And when my La-Z-Boy took control soon after Thor was over, well, that was the end of a pretty chill first day of my weekend.
Sunday was a far busier day, especially after it started a little earlier than I expected when Don came into the man-cave and woke me at the ungodly time of 7:30.
(Dude! It's my one day off to sleep in ...)
All was forgiven when he bought breakfast in the morning, though it was at McDonalds, our second choice, because really, who'd a thought breakfast joints would have lineups on Mother's Day?
And then, with my eclectic box of beers from Don safely stashed in my car (including two more of that amazing Space Invader IPA) and a super kitschy Trump bottle opener from Vegas as well, I was on my way back east, with the GPS set for Downsview and my own childhood home.
The Two Mamas
I was expecting a long list of chores on this day, but really all I did was cut the grass (first cut of the year) and do a few odd jobs, one of which was to clean out the shed in the backyard.
I made note of the hole chewed in the back corner of the roof and the overpowering stench of urine and was about to tell Dad he might have some animal issues when I noticed a big cardboard box on the top shelf that showed signs of destruction.
So I shook it.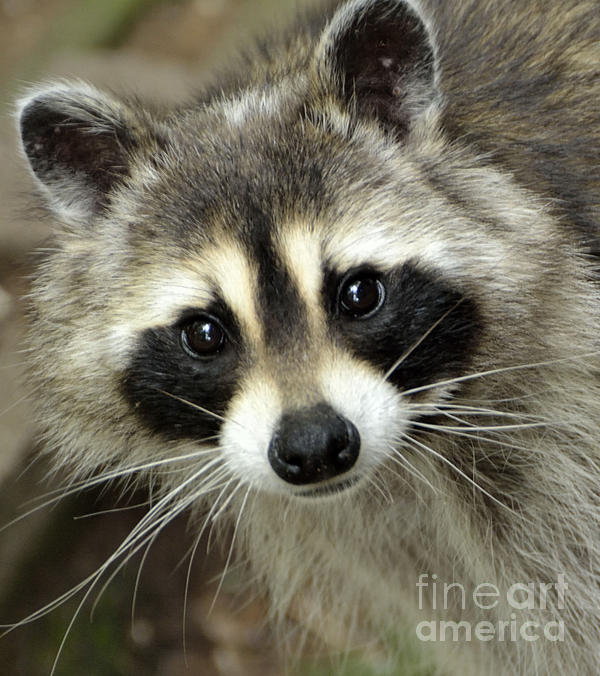 She had eyes just like
this, but sadder
Out popped a big mama raccoon, who stared at me from just above eye level with the biggest and saddest eyes I have ever seen on a trash panda.
And then I heard the squeaks from the box, as if I needed confirmation for what I was dealing with.
On Mother's Day, for crying out loud.
"I'm sorry Mama," was all I said, as she continued to stare mournfully at me. "But you're gonna have to go."
Dad and I agreed to best way to deal with the situation was to simply leave the shed door propped open and hope she left with her family to a new den after nightfall.
Mom
(Which she did, because I was back last weekend and the stench was reduced to mild pungency levels. Shed's still a mess though.)
All that was left after that - besides planning out my bedding plant job for the next weekend - was to go inside, eat some lunch and spend some quality time with Mom.
Mom's memory ain't what it used to be (
Getting more adorable every day
) but she's more chill than she's ever been and, as always, great company.
But, with a concert to attend that evening back in Oshawa, I had to say my goodbyes and head home to my shower. And the plan was to go straight home from Downsview, but when I got to Keele Street and looked at the 401 traffic below - stop-and-go as far as I could see, minus the 'go' part - I changed my plans.
Outta Left Field
I've been meaning to try Left Field Brewery in Toronto's east end for some time and figured, why not today?
It hurt a bit to come within minutes of Bellwoods' Hafis Road location (my usual go-to when I'm at my parent's house) and not pop in, and I came awful close to stopping when I neared the Junction area and its many awesome breweries - Rainhard, Indie Ale House and Blood Brothers, to name just a few - but I had a tight schedule and I had my eye on the prize: Left Field.
Left Field Brewery in Toronto's east end
I took the scenic route, turning south or east whenever traffic slowed and passing more signs promoting the upcoming exhibit by Banksy, the British street artist and all-round provocateur, than I could count, before arriving at the brewery, which is located in an alley off Greenwood Avenue.
The street has a name - Wagstaff Avenue - but it's an alley, which actually adds to Left Field's coolness quotient.
The waiting list outside - the tap room was at capacity - probably helped too, though it didn't help me and my schedule. But I was in within ten minutes and enjoying a glass of WHIP, Left Field's delicious Smoothie IPA made with peach, mango and black raspberry.
I brought a ton of beer to take home, including Take Two IPA, Laser Show IIPA and Squeeze Play Plum Sour, resisted the urge to buy some tasty-looking cookies for sale in the tap room, and headed home to Oshawa.
It really is those unplanned side trips that sometimes turn out for the best.
Two Kims and a (really talented) Sam
Once home and cleaned up, I walked the six blocks down to Buster Rhino's for a beer and to hopefully meet up with my friend Kim from our Humber College days many years ago. Kim's son Sam is in Kim Mitchell's band, as I mentioned, and Kim (my friend, not the rock star) was trying to get to Oshawa in time to have a drink with me and catch up before walking the sixty feet east to this night's venue, the beautifully restored Regent Theatre.
We didn't have time for much catching up, but Kim, who remains as beautiful as I remember but has added elegance to her repertoire, stayed for a beer - a Canuck Pale Ale from GLB, so she made an excellent choice - before she had to hurry to the theatre to see Sam and get her ticket.
Lou and Sam Pomanti in the home studio
Kim, a Drama student at Humber, was an accomplished actor through the 80s and into the early 90s, appearing in some pretty big flicks, notably Cocktail (with Tom Cruise) in 1988, Counterstrike (1990) and Conspiracy of Silence (1991).
Kim took a break from acting not long after marrying Lou Pomanti, a legendary musician, composer and arranger whose CV includes a stint as the musical director for the Junos, touring keyboardist for Kim Mitchell and a few dozen other bands and orchestral arrangement for Michael Buble's 2009 mega hit Haven't Met You Yet. Just to name a few. I'd call that legendary, for sure.
Sam (1995) and Cara - a seriously talented writer - followed, and it was Sam who learnt to play by ear as a boy and soon followed Dad into the music business.
Sam, who is now 22, always has a few projects on the go, including his band Moonhead, which was Dr. Frank-N-Furter's house band in FOX TV's 2016 re-make of the Rocky Horror Picture Show.
Kim Mitchell
And now he can add keyboardist in the Kim Mitchell band, a job held by his Dad a quarter century before.
I settled into the theatre and my seat soon after my friend and watched a kick-ass rock show by a couple of veteran rockers in Mitchell and long-time collaborator Peter Fredette (bass, vocals), a not-quite-as-veteran drummer in David Langguth and the kid, 22 year-old Sam Pomanti.
I was a big fan of Max Webster, Mitchell's first big band, and they played a lot of hits from my misbegotten youth, and it was the youngest member of Mitchell's current lineup that had my attention for the entirety of the show.
This man is a star in the making. Smooth on stage and super talented on the keys, young Pomanti is a name you are going to hear a lot more often real soon.
His Mom certainly thought so, rocking out at the back of the theatre like it was 1983 again. I caught her after the show to congratulate her on her fine choice in children when she said we were going upstairs to the Green Room to meet Sam and his band mates.
Security wasn't so sure but "my son's in the band" got us halfway there and after being told "okay, but just family," Kim took me by the hand, told the guard with some authority "he's with me," and walked up the slightly rickety stairs to the performer's sanctuary, the Green Room.
Sam, Kim and my smiling self in the Regent
Theatre Green Room after the Kim
Mitchell show. Photo credits to Peter Fredette
All in all, a pretty cool experience. I acknowledged Mitchell when I got upstairs (that was the extent of our relationship but that was fine because I wasn't there to see him), and limited myself to a water from the buffet before having a chat with Sam and his Mom.
Sam is an intelligent and engaging young man and even smiled when I asked him if the other guys in the band ribbed him because he brought his
mommmm
to the gig.
C'mon. It's an excellent Dad Joke.
I stayed for another minute or two to trade life stories with Kim (Nelles, not Mitchell), and to get Peter (the bass player and long-time friend of the Pomanti family) to take a picture of us before thanking them for their hospitality and disappearing down the stairs and out into the street.
With Buster's still open and my friends Shannon, Adam and Jessica still there, I had to stop in for a nightcap and tell them
all
about it.
And why not? It was a pretty good story.
Just a part of a pretty epic weekend.
Cheers!