Spring. When a young (-ish) man's heart turns to love
Snow fell from the sky in early April, forcing us to throw some salt down so shoppers didn't slip and fall on their keisters.
Then it rained, washing all the salt away. Later in the day a hail storm blew into town for all of ten minutes and the next morning I froze my ass off before the sun finally came out and started melting all the icy puddles left behind from the previous day's weather shenanigans.
Last weekend, with visions of warmer weather dancing through our heads, we were instead treated to a nightmarish ice storm that reminded us that Mother Nature will give up the season only when she's good and damn ready.
It's only now, with temperatures finally cresting double digits, that we've been able to dig ourselves out from the mess.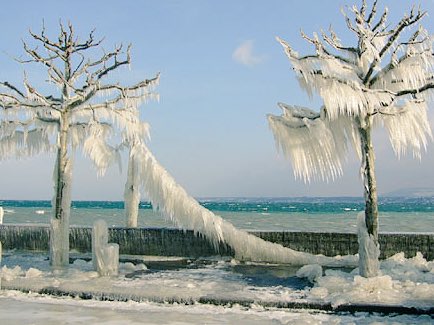 Oshawa's lakefront on April 14
Welcome to spring in Southern Ontario.
Weird weather aside, spring is a glorious time to be alive in this province. Sure, the knowledge that the sunshine is coming is nice and all, but it's all the love in the air that has me excited for the season.
Does that mean the date I didn't have last night went well? Does it mean there is romance in my future that isn't imaginary?
Sadly, no. What it means, ladies and gentlemen, is that it's IPA season.
The Stouts and other dark ales of winter have had their moment. It's now time for the IPA's, Double IPA's and all their friends to have their season in the sun. It's time for some old favourites to climb out of the cave they've been hibernating in and make a grand re-appearance, and it's time for brewers to polish up those recipes they've been developing and start making new favourites.
I love this time of year.
My first indication of the changing of the season happened when I stopped in to Bellwoods Brewery's Hafis Road location in Toronto. I was on my way to Downsview to see my Mom and Dad (absolutely lovely visit, in case you were asking) and I knew that Pineapple Milkshark - my favourite Milkshake IPA in what was a breakout year for the style - was in the house.
That was a must-get and I saved a bottle for Beer Bro Donny Vegas upon his return from his latest visit to Sin City. For some reason Don has been slow to warm up to the milkshake trend. I am confident this one will change his mind.
But Milkshark wasn't the only seasonal surprise sprung on me that day. Ghost Orchid, an IPA that was only my Beer of the Year in 2017 ("incredible aroma of citrus awesomeness" was what I said last year), was also in the fridge. As was old favourite Roman Candle IPA, a somehow more awesome Witchshark, and a couple of new beauties: 100 Wheat Pale Ale and C-Star IPA.
The Black Sabbath (and Pantera)
inspired Planet Caravan IIPA
100 was juicy citrus, lemon zest and tropical goodness, with some peach tossed in for good measure. C-Star was super hazy with a lovely herbal aroma before giving way to bright citrus and tropical dankness. Both were super tasty.
It was a near overdose of hoppy goodness that made it to my fridge that day.
The next week, as the spring weather continued to play havoc with EVERYTHING, I ventured out to a couple of my local breweries to re-stock the fridge. At Little Beasts Brewery, I spent an enjoyable half hour sipping on a half-pint of Pinion, Erin's wonderful American Pale Ale, and chatting with a dude in full Medieval Times garb (more on him in a bit), before scoring a six of hoppiness from the fridge, including a new IPA dubbed Waheela, which was sweet and smooth and very top notch.
I followed up that visit with a stop at Town Brewery and I'm real glad I did. Four Corners was in the fridge and this American Pale Ale - fresh citrus on the nose; bright, lively hops on the tongue - gets better every time I drink it. But the real winner was a new Imperial IPA called Planet Caravan.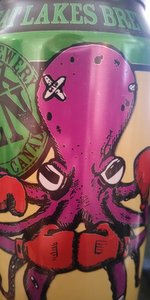 GLB's Octopus Wants
to Fight IPA
Named (by rock star head brewer Tim) for a Black Sabbath tune from their breakout 1970 album Paranoid (and covered by Pantera 24 years later), this beer could be a game changer; it is that good. It's billed as a New England-style Double IPA and while it's hazy and super juicy, there's elements of a bitter hop-smash-to-the-mouth West Coast style as well. There's loads of ripe orange, peach and juicy goodness with a bit of sweetness as well.
So good even legendary beer writer Stephen Beaumont was singing its praises after being gifted a bottle last week.
So damn good I had to return a few days later to get more. So good I had to add that to the Donny Vegas survival pack.
And that's just beer from three brewery visits. There's all the other fine IPAs and IIPAs out there that end up at my local. Each one deliciously reminds me that spring is finally here.
I try to limit my visits to Buster Rhino's for budgetary reasons, but when the Bat Signal goes out on Untappd from my friends Shannon, Adam, Jeff or Cal, I have to respond.
Gotham needs me. Especially when Rainhard Brewing's Hop Cone Syndrome - a world class Imperial IPA that I'm lucky if I see once a year - is in the fridge and Octopus Wants to Fight - my 2016 Beer of the Year - is on tap. Octopus in particular is Great Lakes Brewery's version of Heaven in a glass and I had to make repeat visits until the keg was empty.
Great beer and even more important, great friends, make the expense worth every penny.
Knights (real ones) and free beer
I'm sitting on a picnic bench in the Little Beasts tap room in Whitby enjoying my beer when a big crowd walks in; a little early for a scheduled beer tour.
I'm on the bench because the bar is full of thirsty punters and Erin is on her own, with her husband Keir - the man behind the fledgling brewery's amazing label art - running a few minutes behind.
Turns out the group is on a stag of sorts, with the next item on the agenda the Medieval Times jousting-plus-dinner show at the Exhibition grounds in Toronto, which is why the guest of honour - the big day is next month - was dressed in full Knights of the Round Table attire.
Real Knights in shining armour at Medieval Times
Jessie, who clearly had a early start to the day when he arrived, got his round of flights delivered by his squire and sat down beside me. His pal, a 30 year-old new dad, gave Jessie some unsolicited advice on raising children, while I offered a sample of my many years of wisdom on marriage, having been to the alter twice so far.
Eventually I had to break up the bromance and head home, but not before Jessie swore an oath to our friendship.
"Hey Glenn," he shouted as I walked out the door. "Blood brothers for life."
Wouldn't have it any other way brother.
And while I'm on the subject of Little Beasts, I received a message from Erin on Friday, telling me she had something for me and I should stop by. I can't say no to that request, so just after lunch yesterday, I popped in and ordered a glass of Pinion - I really like this beer - and waited at the bar while Erin disappeared to retrieve my present.
"I'm excited. I wonder what it is," I asked John, the co-owner and all-round nice dude. "You'll just have to wait and see," was all he would say.
And then Erin is back. With a case of Pinion. For me. On the freakin' house.
Erin and John of Little Beasts Brewing
Seems the bottling machine has been acting up and they've been having issues with the tight seals required for optimum shelf life. The bottles have to be foam-capped, and the machine had been leaving a half-inch or so of air at the top.
That, my friends, means those bottles can't be sold because the normal shelf life of three to four months (or longer, depending on beer style) is now down to only a couple of weeks.
"We didn't want it to go to waste and I know you really like Pinion," Erin explained. "But you have to drink it quickly."
No problem Erin. When Little Beasts Brewing needs me, I am ready to step up and do my duty.
And that's why Erin and John are two of the nicest and most awesome people in the beer business.
Cheers!