Creamed by Bickell (for a great cause)
Awards shows - especially in the world of sports - are usually drab affairs, filled with dull speeches and highlight reels we've all seen before.
But last week's NHL Awards Show from Las Vegas was a little different. The league tried to dress it up by having the NHL's newest franchise host it and holding the expansion draft at the same time.
Boring.
That was my response, at least until Bryan and Amanda Bickell came on to the stage and brought the house down. Brought it to tears, anyway.
Bryan was a veteran left winger with three Stanley Cups with the Chicago Black Hawks on his resume who was forced to retire at the end of last season after contracting Multiple Sclerosis. He had spent ten years with Chicago and after being traded to Carolina last off-season had begun 2016-17 with high hopes. But just a handful of games in he received the MS diagnosis.
Bryan and Amanda Bickell with the Stanley Cup and a 'Stanley Pup'
Two months later he was back practicing and after a rehab stint with the club's AHL team In Rockford he suited up for the Hurricanes for the last four games of the season.
They would be his last.
He and his lovely wife Amanda - sweethearts since Bryan left the little village of Orono (where Durham Region meets cottage country) at 16 to play junior hockey in Ottawa - were both honoured with a moving tribute that highlighted both Bryan's actions on the ice and his family's struggles to make sense of the disease (which affects the central nervous system) that ended his career.
It was really very touching. I wasn't planning on sticking around to watch the whole thing - Austin Mathews was going to win the Calder and Connor McDavid was a shoo-in for the Hart, so what else did I need to know? - but I'm glad I did.
The best thing about the tribute wasn't the highlights of his career, which included nine goals in a memorable 2015 Cup Final and a shootout goal - the first of his career - in his final game and on his final shot - but the glimpses of the life he shares with Amanda and their two very young daughters as they look to turn a new chapter in their lives.
It was a beautiful moment.
But why am I talking about a hockey player and his family in a beer blog, you ask?
Because Bryan ventured down to Bowmanville to brew a beer with my boys at Manantler and my friend Matthew from Brewer's Pantry, with a portion of the proceedings going to the Bryan & Amanda Bickell Foundation, which funds training for rescued pit bulls to work as service dogs for people with MS as well as other good works.
The NHL, by the way, kicked in $20,000 for the foundation.
The beer is called Creamed by Bickell and is (naturally) a Cream Ale. It's also quite good, with an aroma of toast and light citrus. It's really easy drinking, with bits of spice and lemony hops.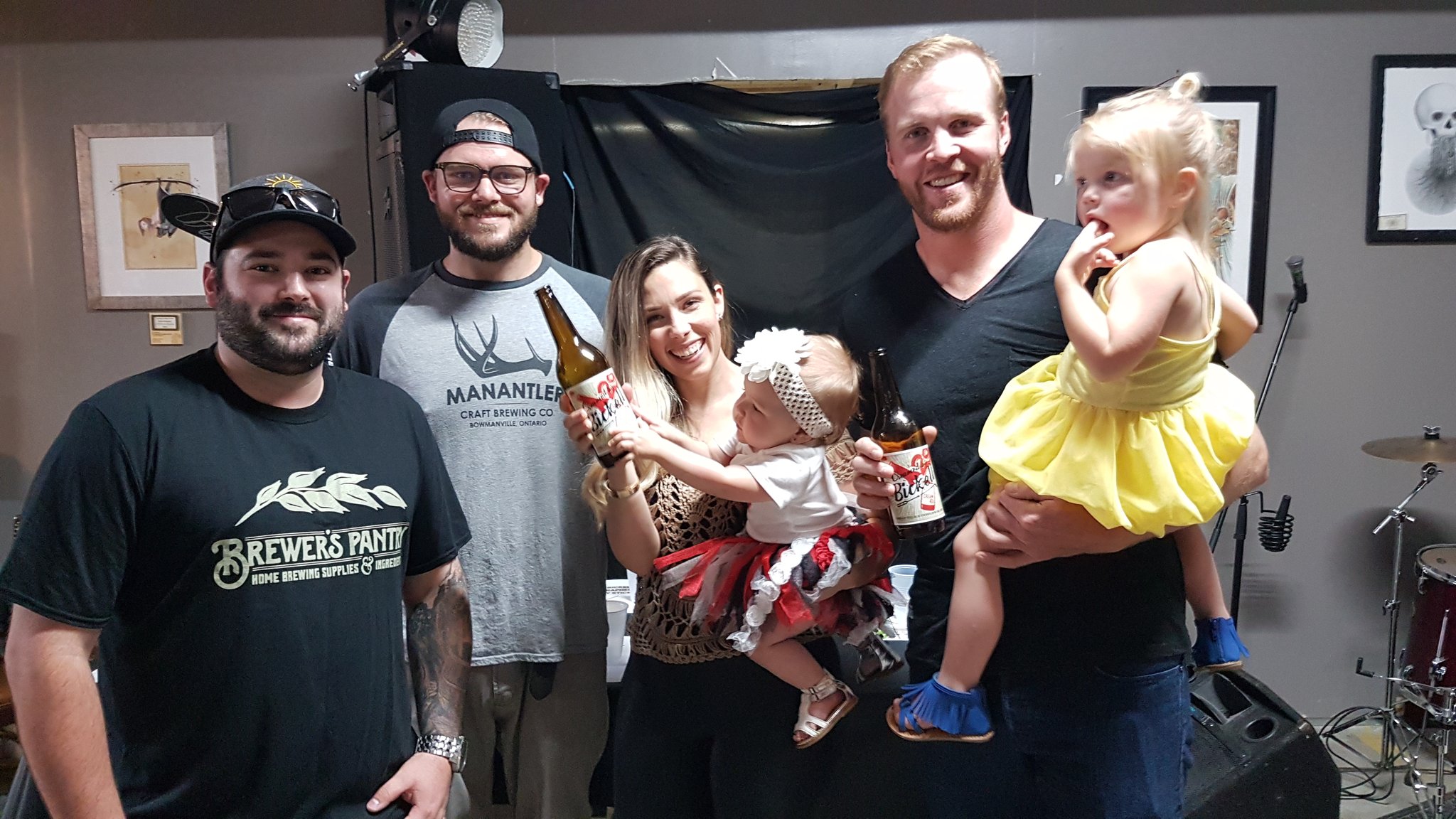 The brewers Matthew, Chris and Bryan
with Amanda, Kinslee and Makayla
So good I bought four at Friday's beer release party at the brewery. I chatted with Matthew and Jessica (who were both busy helping to organize the event) before lining up with a few other fans of hockey, good beer and wonderful stories to to meet Bryan (who shares the same birthday as Number One Son Matt as well as my father) and get the bottles signed.
I told him that after watching the NHL Awards Show that he and Amanda were my new heroes, and I repeated those words a few minutes later to Amanda (who was holding her littlest one, Kinslee) while my purchases were being rung up.
She graciously thanked me and watched with amusement as Kinslee reached out repeatedly to grab my hand.
"She's not after your fingers," Amanda said with a laugh. "She's after your beer."
Bryan Bickell and the beer blogger
These Orono kids grow up so fast don't they?
I was thinking about how I might get a few bottles out to my pals Don and Robert out Burlington/Hamilton way, being big hockey fans, but the logistics were posing some difficulties and when the requests for bottles came in when I got home I knew they were out of luck.
"I would love one," said Number Two Son Cam. "Okay, you got one," I replied. "I would like one too," said Number Three Son Jake. "Uh, J Man, you're only 15," I countered. "I just want the bottle," he said. "You can have the beer."
Thanks, son.
Then I reached out to my old and dear friend Terrine (okay, she's not old, but she is a dear), who is a huge Hawks fan. And that left just one for me.
Sorry guys.
There's still plenty of bottles left at the brewery. They're likely not signed, but the beer is good and it's for a great cause.
Cheers!