Craft Beer Festivals and Karma Citra are beautiful together
On the one hand, I'm glad my blog about my love/hate relationship with Great Lakes Brewery Brewmaster Mike Lackey got some action.
Talk about the power of the press, or more accurately, the brawn of the blog. Or, more accurately still, all part of GLB's master plan from the start that I had nothing to do with.
But I think the Brawn of the Blog is a better narrative.
Two days after I wrote about the lack of Karma Citra in the GLB retail store (just two days after the beer had been released) GLB was tweeting about growler fills of the stuff.
"Nicole is filling growlers today. Nicole is filling them with Karma Citra IPA. Nicole is putting them in the fridge," GLB's social media maven tweeted Tuesday, clearly inspired by my Dr. Seuss Green-Eggs-And-Ham reference in my blog.
Not that this development helped me get any closer to Karma Citra, as I would find out. I tweeted GLB back, asking if there would be any left by the weekend, the earliest I could get down to southwestern Toronto.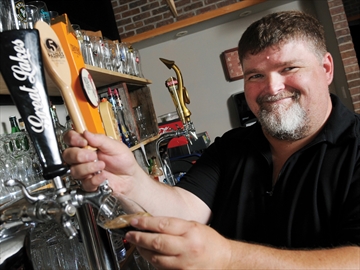 Buster Rhino's Darryl Koster
The response, to GLB's credit, was swift, though not overly helpful.
"Hey Glenn, really hard to say. Not filling a whole lot."
I told them I'd send an emissary to pick some up.
I have no emissary, though I did ask the famed Drunk Polkeroo to pick me up a growler if he happened to be in the neighbourhood. Sadly, he hadn't planned on being in the neighbourhood.
Considering the emotional roller coaster I was on in the previous blog - I hated Mike Lackey, I loved Mike Lackey, et cetera - I decided I would not let this development spoil my mood. With all the hate in the world right now I thought it best to spread the love instead.
Those good vibrations paid immediate dividends. Later that day I checked the Durham Craft Beer Festival Facebook page and I read that GLB would be bringing Karma Citra to the festival, which just happens to be tomorrow.
Oh Happy Day!
So today I pop in to Buster Rhino's in downtown Oshawa - the host site for the third annual beer festival - to get this juicy tidbit of news confirmed.
The lovely Jessica was working the bar and said the beer would indeed be on hand - "we have two or three kegs in the back" - though she wasn't sure if GLB would be pouring this most delicious IPA or if would be only available inside the bar on tap.
Darryl, our host for the festival, then wandered in to set the record straight.
Karma-freakin'-Citra
"Great Lakes won't be pouring Karma Citra at the festival, but if customers want a taster they can try it in here," he explained. I asked Darryl if I could get a pint if I so desired (and you know I so desired) and he said yes, "but you can't have it all."
With approximately 53 pints in a keg, I told him that one keg would be enough for me and I would need a week to get through it. But to be on the safe side, I asked that he keep this little bit of information about Karma Citra's availability to ourselves.
We don't want everybody to know, now do we?
And as I was at the bar a few minutes later squaring up my bill, Darryl came back in and told his bar staff - in all seriousness - that the first keg of Karma Citra was all for me.
Jessica said she'd put my name on it. I'm good with that.
So if you pop into Buster Rhino's during tomorrow's festival and find the Karma Citra tap is dry, don't worry. There's a couple more kegs in the back.
I am many things, including being a generous man.
Dirty Mary and Old Flames
My time inside Buster Rhino's bar in downtown Oshawa today turned out to be time well spent.
Not only did I have it confirmed that Karma Citra would be available at tomorrow's beer festival, I also enjoyed a fantastic hamburger (a chuck/brisket mix that is to die for) and tried a Dirty Mary, which is an unfiltered, unpasteurized version of the popular Perry Loved Mary IPA that has helped put Port Perry's Old Flame Brewery on the map.
This was a very interesting brew. It smelled floral, with lemony hops and grapefruit also prominent. On the tongue there was more lemony hops, along with a creamy texture and a pronounced sourness.
I wouldn't have thought that would be a combination I would like, but there you go.
It was delicious.
See you at the festival!