Doctor recommended:
A Fat Tug a Day
I have to say LCBO, that was impressive.
In a blog posted only yesterday, I gave praise to The Beer Store for bringing in hard-to-find and most excellent IPAs such as Collective Arts Ransack the Universe (Hamilton) and Smuttynose Finestkind (New Hampshire), while calling out the LCBO for not stepping up and sourcing out some gems of their own.
This morning, while checking the Crown corporation's website, I saw Fat Tug IPA (Driftwood Brewery, Victoria, B.C.) in limited supply scattered around the GTA LCBO outlets, including some in nearby Bowmanville.
That was fast.
This is a beer that certainly checks off all the boxes to be called "most excellent."
FatTug!
Which is also what I called my brother Brian, who brought me a bottle of this magic elixir from a 2014 business trip to B.C., the only other time I have indulged myself with a Fat Tug.
I raved about Fat Tug in a 2014 blog (
Blondes, Fat Tugs, Princesses Wearing Girl Pants and a Pot-Bellied Pig in a Park
), calling it "99 on Rate Beer but 100 in my heart." And I got excited a couple of months ago when I learned it was coming to the LCBO.
I wasn't expecting it until spring, however, so today's purchase was an unexpected and wonderful surprise.
I headed out to Bowmanville just before lunch and bought four of these seven per cent ABV, 80 IBU beauties and it's only now, hours later, that I'm able to enjoy one. You know, parental responsibilities and all.
It was just as good as I remembered, with a new and improved super cool label.
Huge aroma of grapefruit and mango and other tropical fruit. Big, resiny citrus hops on the tongue with more tropical fruit and biscuity malts. Deliciously bitter. An impressive beer.
Manantler Brewmaster James Gorry
I stopped in at Manantler Brewing while I was in the neighbourhood and added a bottle of their fantastic Dark Prince Black IPA and a bomber of their Mosaic Pale Ale, just so the Fat Tugs weren't lonely in my fridge.
And I sipped on a Mosaic while chatting with brewmaster James, not for the first time, as to why his brewery wasn't in the hearts and minds of beer lovers all over the GTA.
Seriously folks - if you're anywhere near Bowmanville (that's east of Oshawa if your GPS is down), pay James and the boys a visit. Awesome guys and even more awesome beer.
Fat Tug class. And that's saying a lot.
Pentax K1000 gets the fancy treatment
You can't make silk from a sow's ear, but you can dress up an ancient camera in a Nikon D4 strap.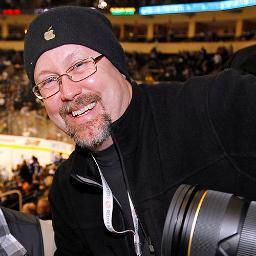 Fred!
I don't know why you would, except it looks really cool.
My pal Fred, who lives in Portage, Manitoba and is a world class and award-winning photographer (Winnipeg sports and Delta Marsh waterfowl are his specialties), posted his Nikon D4 for sale the other day. Now this is a camera that retails upwards of six grand new and I can assure you I can't afford this kind of equipment. But I do have an ancient Pentax K1000, which I bought for $200 in 1980 and has been gathering dust - broken flash shoe and all - for more than a decade. And I am also a smart-ass, so a trade was offered.
Unsurprisingly, Fred didn't take me up on my offer, even when he bargained me down to my Pentax and a beer for the box the Nikon D4 came in.
But he did ask for my address and a few days later I received a package in the mail from ol' Fred.
A beautiful Nikon D4 camera strap.
If only I can figure out how to attach it to my antique camera.
Cheers!