Oshawa's Craft Beer Revolution
Whoever said you can't teach an old dog new tricks would have been more than a little surprised at the turnout for the Durham Craft Beer Festival in downtown Oshawa Saturday afternoon.
A near-capacity crowd of close to 800 people packed a closed-off Ontario Street and an open-for-business Buster Rhino's Southern BBQ for the festival, which featured 12 brewers and more than 40 different brews from across Ontario.
This is Oshawa, that bastion of bland beers, that land of limp lagers, that headquarters of homogenized hops, that …well, you know where I'm going with this. The craft beer festival is another step in the evolution of Durham Region's largest city from a burgers and Budweiser burg to a shawarma, sushi and southern BBQ centre with a taste for brews that runs from bitters to Belgian IPAs.
Some of Oshawa's maturity (and Durham Region's, for that matter) can be attributed to changes in demographics over the past decade or so – we can thank the University of Ontario Institute of Technology for much of that – but it has also been entrepreneurs like Darryl Koster – the man behind Buster Rhino's and the host for Saturday's festival – for taking advantage of the opportunities.
Saturday's event was an unqualified success, Koster enthused with an ear-to-ear grin as he took in the masses lined up to sample the better beers on display. "It went off pretty well, didn't it? It's been an amazing story today. Just incredible."
What made the turnout even more impressive was the fact the festival was competing with the Whitby Rib Fest happening one town over.
Photo: NatayP'tatey
No worries, said Kerri King, Durham Region's Tourism Manager – looking lovely as always – as she enjoyed herself at the festival. "There's more than enough people to support both events."
It was a great cross-section of people at the festival. Young and old, as well as craft beer vets and IPA rookies like my buddy Brian, who came along with me for the day. Brian, a born-and-bred Oshawa boy and lager head from way back, really was an old dog learning new tricks at the event. (Sorry Brian. I mean "old dog" like Randy Jackson interprets it. You know how we do, dawg.)
A lover of all crap – sorry, mainstream – beers and many of them, Brian surprisingly gravitated immediately to the hoppy IPAs. His first two samples were Flight Delay IPA from Barnstormer Brewing and Thrust! An IPA, from Great Lakes, and he loved them both. Props, Brian, ya old dawg.
The crowd favourite at the festival was local boys 5 Paddles from Whitby, who faced long lineups of thirsty customers most of the afternoon and ended up copping the People's Choice Award for best brewer. They brought two beers to the event: A Strawberry Wheat and Dominatrix Black IPA, in addition to Steam Punk IPA on tap inside the bar.
Photo: Kristina Svana
I'm hit and miss with Black IPAs – Nickel Brook's outstanding Malevolent Black Imperial IPA being a notable hit – so I let Brian take a stab at that one. Okay, but not too hoppy, was his pronouncement. The Strawberry Wheat was another story. I've been harsh on 5 Paddles before for not living up to promises on their IPAs, but this beer was all that was advertised. Strawberry on the nose, strawberry in the head (yes, I took a bite) and much more strawberry in the taste. Light and refreshing, this is an outstanding summer patio beer.
The Flight Delay IPA from Barnstormer was a bit of a letdown for me, especially after being told the beer packed 85 hoppy IBUs. Still waiting for those IBUs to kick in, gents. Brian liked it, though.
My pal raved about Thrust! from Great Lakes, and why not. This was Canada's top IPA this year. I went for the Audrey Hopburn Belgian IPA and came away impressed. Very smooth; very nice.
Flying Monkeys
was next and for the first time in my craft beer life, I walked away disappointed from one of my all-time favourite breweries.. The Barrie brewers brought five beers to the party (but didn't bring Smashbomb Atomic!) and I gave Genius of Suburbia a go. This 5.2 ABV wheat ale left me wanting more and the 62 score from Rate Beer agreed. Brian sampled the excellent Hoptical Illusion pale ale and pronounced it terrible.
(Don't worry, dawg. You're doing great for a first-timer.)
Black Oak
was next and we both loved their 10 Bitter Years IIPA and my notes started to get a bit hard to read after that. I know we visited Cameron's Brewing (Rye Pale Ale for me – mmmm, excellent as always – and Pistols at Dawn for Brian – "malty but very drinkable") as well as Nickel Brook (another of my faves) of Burlington, where I enjoyed a Payson Saison (tropical fruits and spices; sour and hoppy at the same time) and pal Brian went back to his new love of IPAs by trying their most excellent Headstock.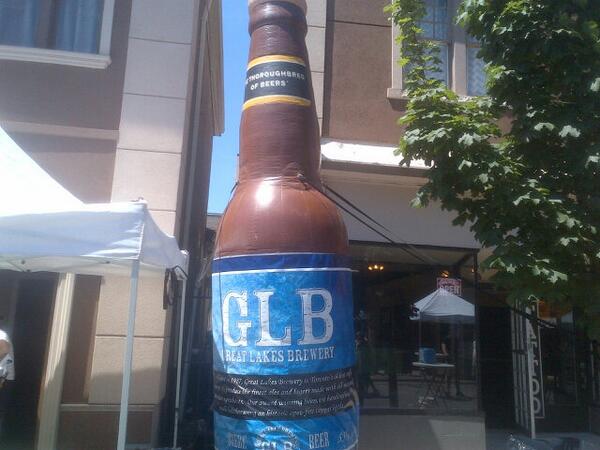 Photo:Natalie Miceli
We also hit up Spearhead Brewing for Hawaiian Style Pale Ale (Brian) and India White IPA (me) before we bought a couple of delicious Buster Rhino's pulled pork sandwiches for sustenance. Then we took a break from the crowds and the sun to have a pint inside the bar. Both of us tried the Steam Punk IPA from 5 Paddles and both of us declared it ordinary. No kick and not much steam either.
Then it was time to visit some old haunts, Brian said, so we strolled down King Street for a bit to Riley's, a two-floor pub with a large patio at the back. It was on the patio where I had a Steam Whistle Pilsner and Brian ordered a … Bud? Brian, no!
I guess sometimes you can teach an old dog new tricks but he still comes back to the same tired old bone.
It was also on the patio where we ran into Lynn, a slightly wobbly woman who said she was hiding from the rest of her family parked in the main part of the bar. Lynn was an esthetician, which meant, she declared, that she "waxed crotches for a .living."
After that experience we went back to the festival, where I spent my last two tokens on Headstock and another round of 10 Bitter Years. Brian was probably still looking for a Bud (or perhaps Lynn for a wax) so I'm not sure what he had. I know he wanted more Thrust! but they were tapped out. Damn the luck.
All in all, it was a great day in downtown Oshawa. Fabulous weather, enthusiastic crowds and world class craft beers. And not an old dog in the bunch.