If the names were meant to intimidate they failed miserably. Instead, they intrigued and made me thirst for more.
Even the warnings from an old friend didn't faze me. "I think you should start slow," said Don, who I hold responsible for my current predicament. "Baby steps, man – all those hops will be too much for you!"
Too late now, Don. I'm hooked on the hops and now I have to admit it: I am a craft beer addict.
Two months or so ago I was happy to buy a few Bravas now and then and occasionally splurge on a little Gibson's Finest. Brava hasn't darkened my fridge door since then and I still have half a bottle of rye from Christmas. Craft beer, meanwhile, has crowded my fridge to the point that I have to do some renovations.
(I don't really need mustard, ketchup or pickles, do I?)
It's not as if I have embraced all craft beers. I've tried a few porters and stouts, a bunch of pleasant pale ales and even an excellent wheat beer or two.
My passion, however, is reserved for IPAs.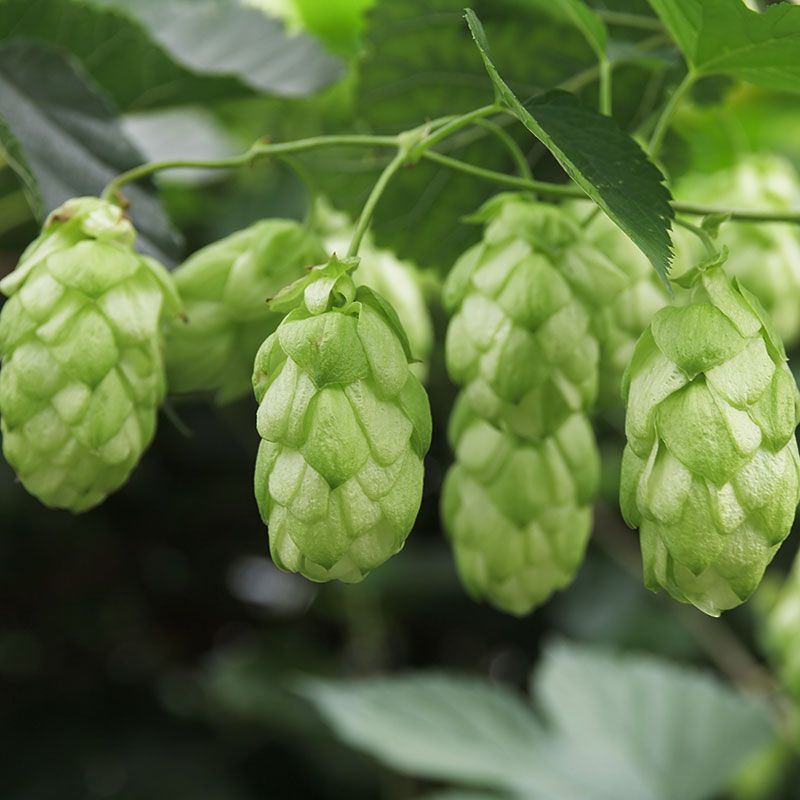 Chinook hops
I
PAs, or India Pale Ales, are the extra strong (usually six to seven per cent alcohol), extra-hoppy ales first brewed by the English in the 1800s to ensure that beer shipped to the troops in India would arrive fresh and the troops, overdressed for the tropical heat in typical British fashion, would stay too drunk to revolt.
The Americans (and later we Canadians, Australians, New Zealanders and a few other nations) then took that recipe to another level in the early 1900s and now produce most of the world's best IPAs, with the epicenter of the craft beer explosion on the west coast, from San Diego to Vancouver.
And I want to try them all.
I now spend more time on the LCBO website, searching for hard-to-find IPAs in local liquor stores, than I ever spent on … those other web sites I used to frequent. I've driven to every store in Durham Region on the hunt for the latest prize, and cried like a baby when the beer was not to be found, despite the all-mighty internet telling me it would be.
I dream about IPAs. I plan my day around how I get IPAs. The first thing I do some mornings – before I go on Facebook to see if my fellow beer geeks have anything important to say – is jump on the LCBO site to source out where I'm going after work.
Smashbomb. My first love
Then I spend my day hoping I can work until at least 10 so I don't have to wait to buy my treasure.
I once drove to Brooklin to find West Coast IPA, a San Diego ale that was pumped up as the bomb in Don's beer blog, and turned around and travelled east to Bowmanville when it was a no-show. Struck out there, too.
The next day I hit up the Whitby LCBO on the way home from work, only to be defeated once again. So I ordered the damn thing and a week later I was seeing for myself if all that driving was worth it.
It was. Third best beer EVER.
The real scary thing about this addiction is my reliance on Don for advice. He's been like my mentor on my transformation and I can tell you that Don and mentor are rarely seen together in the same sentence.
This excerpt from one of his Brew Ha Ha blogs, in which he tries to offer praise for a not-quite-up-to-snuff ale, probably best describes his philosophy on beer and beer drinking:
"It's a decent little beer, not an IPA but still good enough to get the job done. But I would also wanna know what the guy on the floor had been drinking so I could try that, too."
To be fair, there are other people who have helped take me down this dark (well, a deep copper colour, usually) path. There's Steve, another college chum from J-School, who now calls New Zealand home.
Steve, who is also a certified wino, is forever raving about the craft beer scene Down Under and is forever boring us with tales of perfect weather, perfect pubs and perfectly free accommodation (at his pad, natch) in New Zealand's capital.
He also writes about beer, wine and that dreary stuff about how awesome his adopted home of Wellington is in his blog, Five Foot 19.
mmmmmm...Brutal IPA
There's also the lovely Cat, who I will meet for the first time Saturday when we invade the Bellwoods Brewpub in Toronto to sample their awesome ales. She also writes a blog or two, called The Cat Came Back.
Cat is always to quick to offer sage advice – "why don't you call first instead of wasting all that gas?" – was her wisdom after I posted about my hunt for West Coast IPA. She was also quick to offer kind words after I gushed about a Smashbomb Atomic IPA (my second favourite beer EVER) I was enjoying in the early morning. "You dear, sweet man. Most of us start with coffee."
(In my defense, I had been working all night, so it was a before-bed nightcap, not breakfast. But if it gets me a "dear, sweet man" comment from a woman I hadn't yet met, we can call it breakfast. Or whatever she wants.)
You see? Craft beer is already improving my sex appeal.
It's also giving me hope for the future: I'm already making plans to visit a California brewery next February for the annual unveiling of a Triple-IPA – that's right, I said triple – that has enthusiasts lining up for up to eight hours just for a taste of what many call the best beer in the world.
Don's in – "buh-RING it!" was his response, and Cat has purred her approval as well: "Oh yes …hello California!" If we can talk Steve into taking a slow boat across the Pacific, we got us a party.
I know, right? I got it bad.
My fridge now contains a few Smashbombs, a couple of West Coast IPAs, a half-dozen Hop Circle IPAs, a bottle of Brutal IPA – best beer EVER – and two double IPAs I'm itching to try.
That should do until the weekend visit to Bellwoods (home of Witchshark, a double IPA that scored 99 on the Rate Beer scale), when the quest for the perfect IPA resumes.
Now there may be friends who question my new love affair with beer, but I'm still maintaining my most excellent parenting standards – the J Man doesn't appear to suspect a thing – and besides, passion is passion and I'm glad I found one.
Besides, it has got me writing again, and that's a great thing. This blog is my first since Shwa Stories went on hiatus in September.
I'll drink to that.